Ukraine response resources and support
Millions of people have fled Ukraine, moving to Poland, Hungary, Slovakia, Romania, Moldova, and other countries. Millions of others have stayed in the country, suffering the destruction of infrastructure and services. With over 20 languages spoken, it is critical that people get information and be heard, whatever language they speak. 
To meet the rapidly evolving needs, CLEAR Global launched the Ukraine emergency community translation partnership program.
Eligible nonprofits, local organizations, community groups and individuals providing support to people facing the crisis got free translation support from our volunteer community via the TWB platform.
We translated written documents specifically related to the Ukraine crisis, such as:
migrant safety, protection, access to services,

public-facing documents or those created for humanitarian and other aid workers,

documents in line with UN guidance, and

relevant documents available to end users through open and free access.
While our pro-bono language support program ended, we are still actively working with partners as part of our Ukraine response.
Ukraine language resources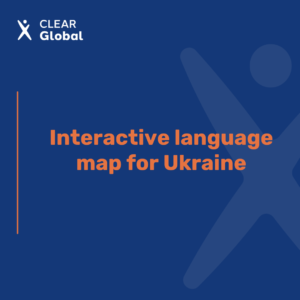 Interactive language map for Ukraine – a visual overview of the languages spoken in Ukraine. Responders can use this to better understand and support people affected by the crisis.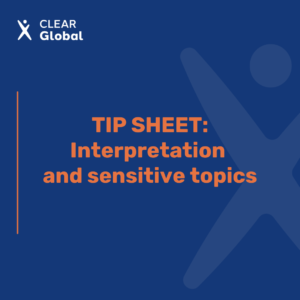 We and OXFAM provide tips for humanitarians to help them overcome sociolinguistic barriers that might occur when interpreting sensitive topics, but also support the mental health of interpreters. Our tip sheets are available in English, Ukrainian, Russian, Polish, Slovak, Romanian, Hungarian, German, French, Spanish, and Arabic.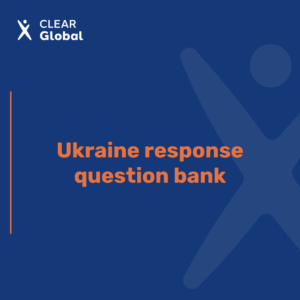 Questions for individuals, household and key informant surveys are available pre-formatted for Kobo Toolbox/ODK in Czech, Hungarian, Romanian, Russian, Slovak, Ukrainian, German, Polish, and English on the TWB website.
Interested in doing a survey?
We have successfully worked with partners like IOM DTM, REACH, and UNICEF to integrate standard language questions into ongoing surveys. We have a proposed set of standard questions that can be included in any survey. All questions are formatted to conform with OpenDataKit (ODK) standards.
Find out more here.
There are more than 20 languages spoken in Ukraine, in addition to those spoken by international residents and students. Millions of people are at risk. We need to ensure safety and protection information is available to all of them – whatever language they speak, wherever they go. Many local and responding organizations don't have the language capacity needed for effective humanitarian response.
But, you can help change this.
Your donation will allow us to create more language resources, train and mobilize more people, and better support other organizations responding to the Ukraine crisis.
Urgent Ukraine response: help people get critical information in their language.