Language offers inclusion and solutions for refugees 
CLEAR Global's mission: helping people get vital information and make their voices heard
With a record 110 million individuals worldwide displaced by conflict, persecution, violence, human rights violations, and climate change disasters, many find themselves in vulnerable situations. 
For them, leaving their homes is the only option to find safety. The best way to support people to rebuild their lives and enable them to access opportunities is by including them in local communities (UN). This year, the World Refugee Day theme is "Hope away from home. A world where refugees are always included." For us, inclusion starts with language, listening, and access to information – because language exclusion compounds existing challenges. We're building inclusion with multilingual solutions for refugees around the world.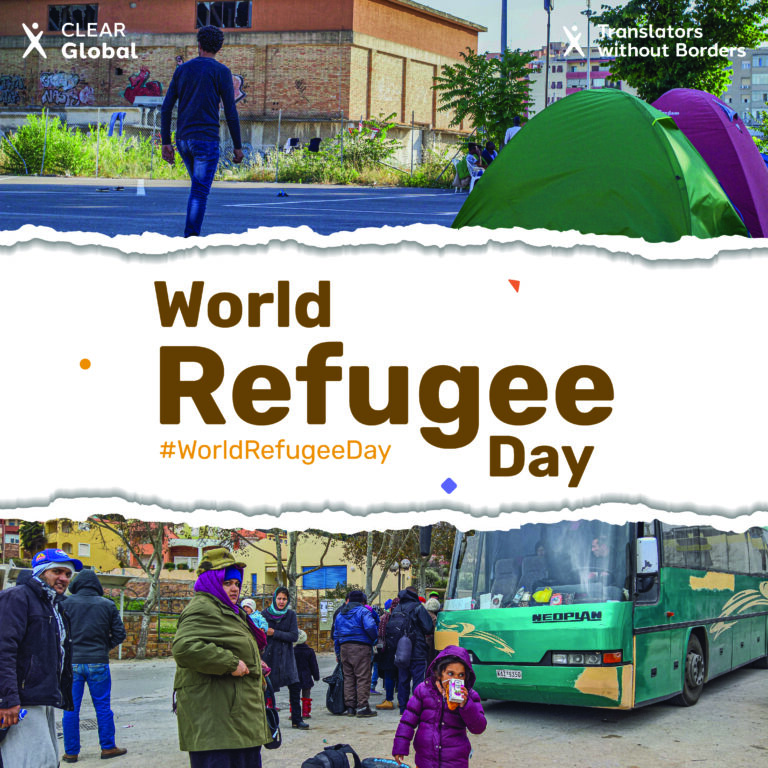 Often overlooked, language is essential for everyone to understand their rights and get their needs met. It enables people to communicate their concerns and experiences to the people delivering aid. When we enable people who have been forcibly displaced to get services, resources, and information in their own languages, we contribute to making their already disrupted worlds a bit more equitable.
This is exactly where our work stands. 
Our technical niche is language and communication, with a specific focus on making sure marginalized language speakers and people experiencing language barriers are not excluded from assistance. With our work, people gain awareness of their rights, enabling them to make informed decisions, expand their opportunities, and actively participate in meaningful dialogues that hold significance to them.
Collectively, we have the power to make change.
We want to make sure that language does not compound existing challenges for people who have fled their homes.
Thanks to our supporters all over the world, CLEAR Global and the TWB Community are working with local and international partners to ensure that refugees can access vital information in their language and be heard. We are doing this around the globe to create long-lasting solutions. 
Language is key to an effective response in Ukraine:
The invasion of Ukraine has caused more than eight million people to flee their homes. Since the beginning of the war, CLEAR Global acted quickly to ensure that language stayed at the forefront of the international response. As of today the TWB Community and CLEAR Global team has: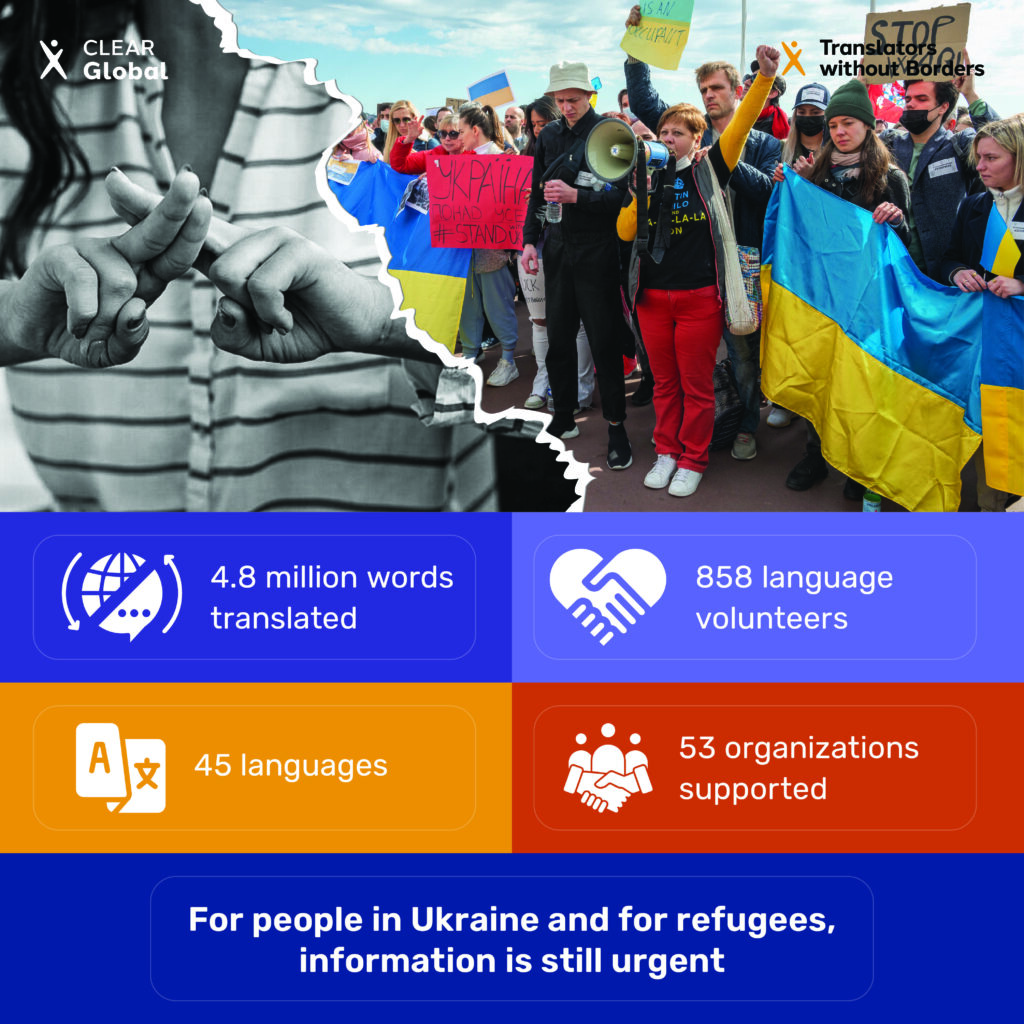 Translated 4.8 million words to help displaced Ukrainians.
Created a free, multilingual language and communication toolkit dedicated to helping anyone supporting Ukrainian refugees. 
Preventing sexual exploitation, abuse and harassment (PSEAH )with the Resource & Support Hub: we produced a multilingual film to raise awareness of PSEAH in humanitarian action; a multilingual glossary, including sign languages; and delivered online interpreter training to better support affected people.
We continue to train major humanitarian actors in Plain Language so they can help people understand their rights and how to access services.
And we continue developing Kompas, our multilingual AI platform sharing critical information with people fleeing the war in Ukraine.
You can track our response efforts on this portal. 
Including Rohingya people in the response in Bangladesh
More than 900,000 Rohingya currently live in refugee camps in Cox's Bazar in Bangladesh. Our team has been supporting people and partners in this complex political and humanitarian crisis since 2017. In the face of language and communication challenges, good language and communication practices remain vital for affected people.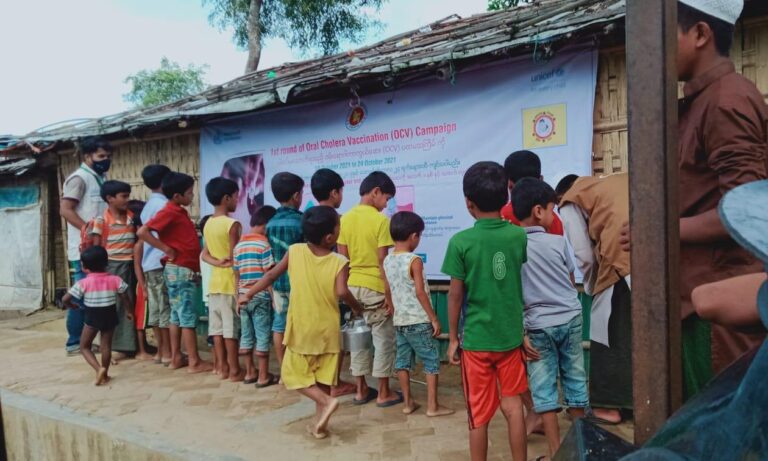 Recently, we have:
Added 4,000 words to our glossary for Bangladesh, helping responders communicate with affected people about education, emergencies, health, COVID-19, and gender (preventing sexual exploitation, abuse and harassment).

Explore the glossary here. 

Trained local community interpreters to communicate with affected people on cyclone preparedness. We support the Cyclone Preparedness Programme (CPP), providing linguistic support while developing and disseminating messages to help the community prepare and stay safe.

Worked on translation, voice-overs and animations for local and international partner organizations to raise awareness of issues that are important to community members such as safety and health. 

Held focus group discussion, conducted research and

published a multisectoral study.

It provides insights into language and communication practices in different sectors of the response and highlights the role that respectful interactions can play in delivering effective aid. 

And we

published a report with actionable recommendations for healthcare facilities

where a lack of language skills and cultural awareness was

found to be hindering access for Rohingya people

. We talked with service providers and their patients to understand how good language and communication practices can overcome barriers and help provide quality healthcare services to Rohingya refugees.
Meeting urgent communication needs in Türkiye and Syria 
When Türkiye and Syria were struck by recent earthquakes, hundreds of TWB Community members responded to provide urgently needed language services to local responders. It's critical that affected people can get clear communications and can access emergency relief, shelter, healthcare, or support services in the languages they understand. To support responders, so far we have: 
Launched an Emergency Community Translation Partnership Program

, for nonprofits, local organizations, community groups, and individuals supporting those affected to get translation support for Turkish, Arabic and Kurdish dialects. 

Developed

resources in relevant languages

to improve two-way communication and accountability for responders and affected people, including:
Solutions for refugees in Central and South America
In collaboration with IOM, we developed Planeta Azul, a chatbot in Spanish so that migrants and refugees can ask questions and access basic information about the services provided by IOM.
This has been a tremendous tool for migrants and refugees coming from Venezuela to Peru and Ecuador, and for those coming from Central American countries to stay in México. The chatbot was designed as a conversational experience, so migrants and refugees could access both text and media content. Importantly, because of the UX research that went into developing the tool, it includes information around issues of interest to affected communities.
Learn more about how TWB Community members help create impact around the world on the TWB blog.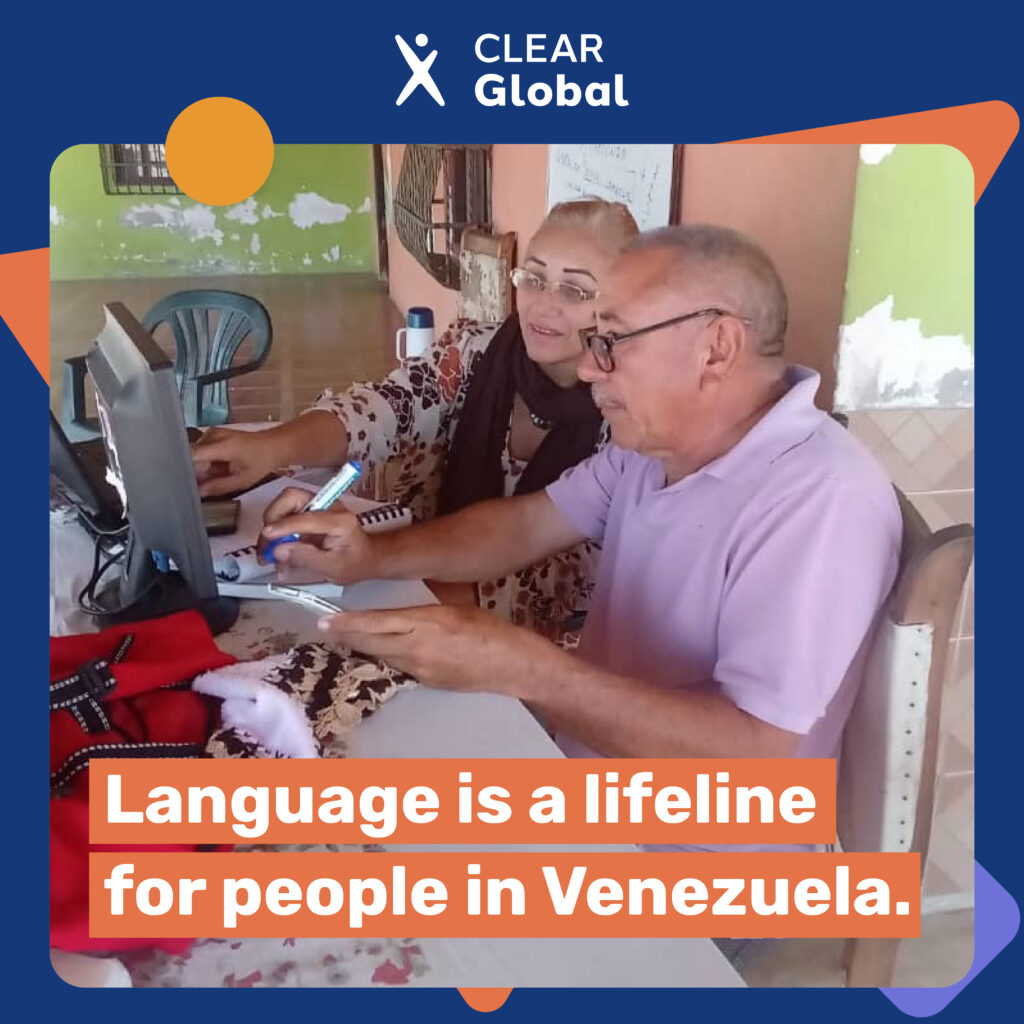 How can you support our work?
With the support of our generous sponsors, CLEAR Global is set to change the way the world communicates. This means ensuring language stays at the forefront of humanitarian responses to support refugees, migrants and displaced people. Our global team of experts collaborates with local language speakers and technologists to build innovative, inclusive, and accessible language solutions to ensure that refugees have access to information in a language and format they understand. 
If your company is invested in promoting multilingual conversations, collaboration, development and sustainability, join us to strengthen our efforts to support refugees, wherever they are, whatever their language. 
Here are some ways you can help:
Provide pro bono support (in-kind sponsors)
Help us build capacity to support refugees around the world! We always welcome support from LSPs, MT, or NLP companies that are looking to support these communities through pro bono work. Learn more here. 
We typically benefit from donated translation services to support people with information needs as quickly as possible when a crisis hits. Our LSP partners find it a positive example of social impact to share with staff and stakeholders. The work is also rewarding for their translators. In return, you will be able to promote your sponsorship of TWB and we will list you as an in-kind sponsor on our website and at industry events. 
Sponsor TWB 
By becoming our sponsor, you will help us scale our refugee support programs and language technology solutions for millions of people who speak marginalized languages. So that people who have been forcibly displaced can make their voices heard and get critical, life-changing information. You'll become a crucial piece of our organization.
As our sponsor, your company will benefit from increased visibility, improved brand reputation, and association with a leading nonprofit advocating sociolinguistic diversity and inclusion. 
Here you can find the different levels of sponsorship your company can support us with on a yearly basis. 
Help spread the word about our work 
Helping us spread the word about our work and our impact is the easiest way you can help!  
By posting on social media or sharing with your networks, in your newsletter or at your events, you can help us increase the visibility of our work, and reach more people with critical support.
Written by Jennifer Cajina-Grigsby, Foundations and CSR Fundraising Officer for CLEAR Global
.