Language as a key for effective Ukraine crisis response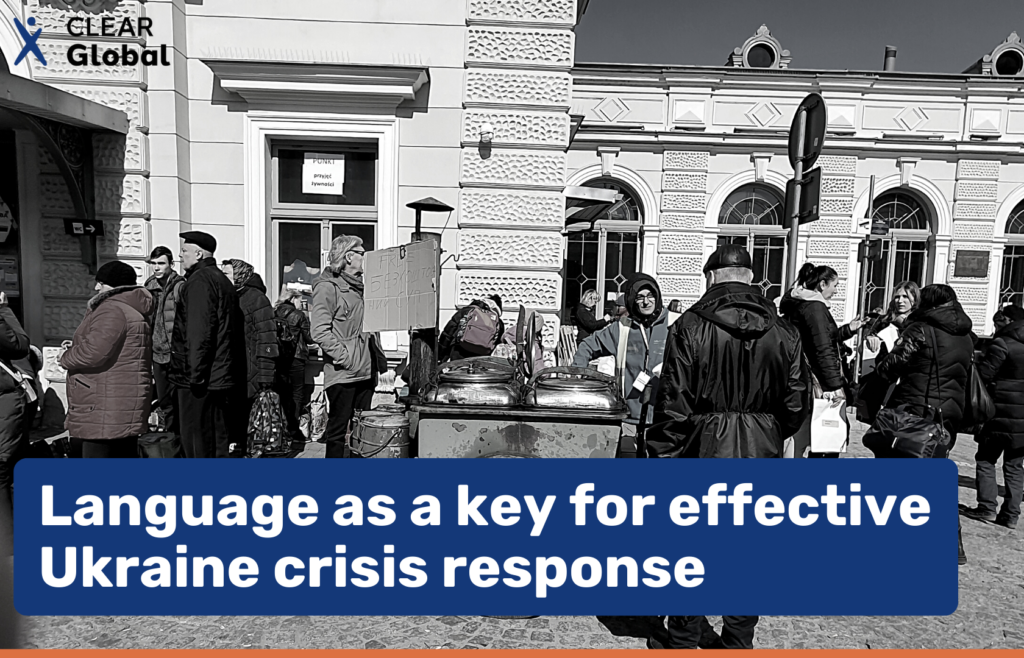 It's been three months since the crisis in Ukraine started. Over six million people are internally displaced. About six million people have fled the country, leaving their lives behind to seek refuge abroad. Many had to separate themselves from their families, while others lost their close ones along the way. Some left homes without supplies or provisions. Groups were trapped at the borders, spending hours on trains without water, food or access to up-to-date news. A lot of people who stayed home are too afraid to get outside. They are all anxious and lost. How do they get food and other necessities? How do they communicate their concerns, how can they ask for help in an unknown country where nobody speaks their language? How can they make informed decisions if language barriers prevent them from understanding what's ahead?
Many organizations are stepping forward to help Ukraine's citizens. The CLEAR Global team has immediately mobilized our resources to provide language support within and outside Ukraine, in countries like Poland, Romania, and Hungary. We have already partnered with 31 aid organizations and keep receiving requests for support as the situation expands and impacts more people across Europe. The events are rapidly evolving in an international, multilingual context. Information must circulate fast and language barriers be overcome.
Why does language matter in the context of Ukraine?
Host countries' organizations providing help at the borders and in the country don't always have language capacity to communicate with all the refugees. Aid agencies need language support to ensure they respond to the people's questions and concerns.
This is why we focused our Ukraine efforts on three key areas: translation, education, and research. We want to help support the people affected by the crisis in Ukraine, whatever language they speak. We act as a communication bridge between people affected by the Ukraine crisis and local and international organizations through our Partnership Program.
Our Ukraine response: Translation to help people in and fleeing Ukraine get urgent, lifesaving information in a language they understand
With the support of 419 volunteer linguists from our TWB community, we've translated over 1.3 million words into 35 languages. This means we've helped 31 partner organizations, including IRC Ukraine, WHO, and CARE International, better understand and respond to the needs of people affected by the Ukraine crisis. We provided multilingual content covering various topics, such as child safeguarding in humanitarian settings, international law and humanitarian standards, personal safety and security, and more.
In situations like these, where information can save lives, it is vital that this information be accurate and reliable. To that end, we've provided our linguists with online training courses and informative tip sheets, so they could learn and improve their humanitarian translation and interpretation skills. This is also a way for us to give our volunteers something in return for all their hard work and dedication.
Our Ukraine response: Educational resources for humanitarians to better understand and help the people affected by the Ukraine crisis
We've created a plethora of multilingual resources for humanitarian organizations to learn and apply to prevent disasters that often take place in difficult environments, such as the crisis in Ukraine – trafficking, mental health issues, and sexual abuse. We help educate people on how to protect themselves and stay healthy, but also how to behave to prevent coercion, exploitation, and abuse – whatever language these people and organizations' representatives speak. Our educational materials help organizations train their staff in the context of humanitarian response. Specifically for the Ukraine situation, we offer multilingual:
(Find these and more resources on our Ukraine page.)
All our resources are available for free because our aim is to help as many people and organizations – something that doesn't come with a price tag. We support others to ensure that their content can be effectively communicated.
Our Ukraine response: Research to better understand people who've fled Ukraine – and help our partners address their concerns accordingly
To help, you need to listen. We therefore sent teams to Poland, Moldova, Romania, and Germany to assess language and communication needs of the people who fled Ukraine. By understanding their language and information needs and preferences, we'll create resources for aid workers to better respond to people's questions and concerns. This matters greatly: imagine a Polish humanitarian trying to help a Ukrainian child who's lost his mother. Other vulnerable or marginalized groups, such as Roma people and people with disabilities, might face greater challenges due to their inability to communicate with help providers in the same language. For instance, we found that, in Moldova, very little information and support existed in Romani – which further aggravates the situation of Roma refugees who are trying to find shelter in Moldova. We started reaching out to news stations and helping organizations to raise awareness of this and act together. Unless we understand people's information source preferences, we might not be able to disseminate reliable information properly. In turn, communication will be broken and aid less effective.
Our Ukraine response: Additional tools and resources for humanitarian and other organizations to overcome language barriers
We offer interactive language maps for Ukraine that we created using reliable and up-to-date language information, so humanitarian and other nonprofit organizations can see which languages are spoken in which parts of Ukraine. This enables them to organize their staff and response programs accordingly, to avoid misunderstanding and inefficiency.
Our language question banks contain questions that humanitarian organizations can use and are using in surveys to better understand language and communication needs. The questions are already translated into relevant languages. By knowing which languages these people speak and which formats they prefer, aid workers will be able to better respond to the people's needs and questions.
Our Ukraine response: Key achievements and remarks
Since the beginning of the events in Ukraine, we have translated over 1.3 million words into 35 languages, with the help of 419 community members. Our participation in 178 response projects was crucial to providing people and organizations with vital information and resources.
Our language and communication assessments indicated weak points in terms of information dissemination and multilingual aspects of cross-country communication. For example, we discovered that, in Moldova, information-sharing required more structure and verification. In Ukraine, most people trusted government information; this was mostly in Ukrainian and sometimes Russian, leaving others with little information. Now, we're working to find the best ways CLEAR Global can help improve all of this. Our CEO, Aimee, was in Ukraine to meet with government and nonprofit representatives, and advocate the importance of language in this context, but also suggest solutions.
Bottom line
In the context of a crisis, aid agencies and governments need to understand the importance of language and communicate across borders to ensure proper refugee and local people protection and safety. Everyone directly affected needs information that will help them better adapt to the changing context.
That's why we're here – to help listen to and understand people, whatever language they speak. Thanks to the money raised during our Ukraine appeal and the tireless support of our community, we have started to respond to the language and communications needs of people displaced by the conflict, while continuing to help in other crisis-affected communities across the globe.
While we've secured funds for our Ukraine efforts until August 2022, thanks to partnerships with other aid agencies, we still need support to continue and expand our operations in Ukraine, surrounding countries, and other countries, including Bangladesh, Nigeria, and Kenya.
Donate today to support our crucial work:
Written by Milana Vračar, Communications Officer, CLEAR Global
Follow CLEAR Global on Twitter and LinkedIn.
Follow the TWB community on LinkedIn, Facebook, and Instagram.