Introducing the PSEA glossary: 208 terms, in 39 languages - available for everyone, in one place
Knowing which words to use isn't always straightforward, especially when communicating across cultures and about sensitive or traumatic issues. This is certainly true for those working on protection from sexual exploitation and abuse (PSEA). A new multilingual glossary of PSEA terminology in 39 languages1 aims to help. This interagency resource aims to make communication on PSEA more accurate, consistent and appropriate to each context. With the right words, organizations can better ensure that people can be heard and receive the support they need.
Choosing the right words matters – and a glossary is the first step
Words can show status, give respect, and promote trust. They can also stigmatize, shame and even re-traumatize people. The right words help people to report and resolve problems; the wrong ones can leave them unclear about their rights or not trusting organizations to take their complaints and experiences seriously. Taboos, social contexts and individual emotions all influence how each of us may communicate about experiences related to PSEA. Getting these conversations right starts with knowing which terms people understand and feel comfortable using.
For example, zina is a term used in the Rohingya language to refer to rape — but also to adultery. In other words, the term implies that the person who was raped carries some responsibility for it. Research with Rohingya communities in Bangladesh also found that women and girls might speak of "staining", "dishonor" and "oppression" to refer to sexual abuse and sexual violence, while men and boys might use words for torture to discuss male rape. It is already challenging to report sexual exploitation by a humanitarian to their organization, given power discrepancies, reliance on humanitarian support, and possible trauma. By using the terms survivors are comfortable with, organizations can help create a safe environment for them to speak about their experiences and ask for support without feeling judged or stigmatized and without being re-traumatized.
In 2021, CLEAR Global began work on a safeguarding glossary with other agencies active on PSEA: the International Organization for Migration, the Safeguarding Resource and Support Hub, the CDAC network, CHS Alliance, UNICEF, and other members of the Inter-Agency Standing Committee.2
The glossary launched today provides a much-needed resource for program staff, volunteers, translators and interpreters working in various contexts. They can use it to:
understand unfamiliar terms,
check definitions,
select the appropriate word, and
prepare for challenging conversations.
With organizations using locally accepted terminology, individuals can understand their rights and seek help without feeling disrespected. With the help of a glossary, interpreters can know which terms to use, and better understand what people are saying about their experiences. And by providing a basis for more consistent use of standard translations in each language, the glossary can help organizations to avoid confusion and stigma, communicating more effectively on PSEA with both communities and their own staff.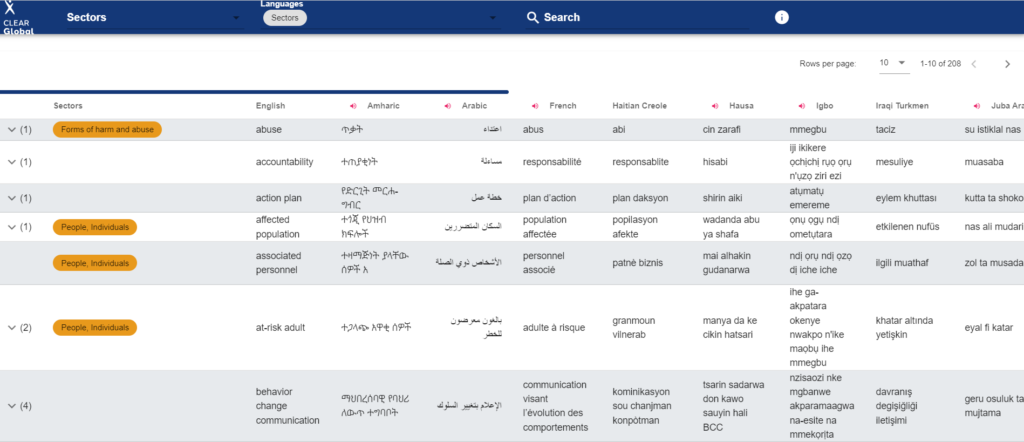 Effective communication takes work
The glossary is an important step in the right direction, but it's not the whole journey. To communicate effectively on PSEA, organizations need to take three further steps.
1. To choose the right words, first determine what languages people speak. Quality language data is often not readily available. This is a chicken-and-egg problem: organizations typically don't collect data on language because they're not aware of it as an issue – but without the data, they are less likely to become aware of it. It's hard to see the people you're missing. In DRC, for example, much of the information on PSEA is provided in French, a language that many in conflict-affected communities don't understand. As a result, people affected by SEA may not know what their rights are or where to report a violation. Reporting hotlines do not generally enable reporting in local languages, making it hard for survivors who don't speak French or a national language to seek support. This disproportionately impacts already vulnerable groups, including those without a formal education.
2. Test to ensure that your audience understands and accepts your communication materials. Illustrations that make sense to someone who can read the accompanying text won't necessarily be clear to someone who can't, sowing confusion and potentially reinforcing harmful stereotypes. The best way to avoid these misunderstandings is to test comprehension of the materials. For example, Figure 1 (below) reinforces the blaming of women engaged in survival sex. When it was shown to a group of male traders, the men read the image as depicting prostitution, which they saw as "a sin for a woman". Women in the same community reported that they are already blamed "when a humanitarian wants them and they can't say no." Stigma and shame are an important factor for many women in deciding not to report relationships with humanitarians, and using such images can increase stigma for survivors.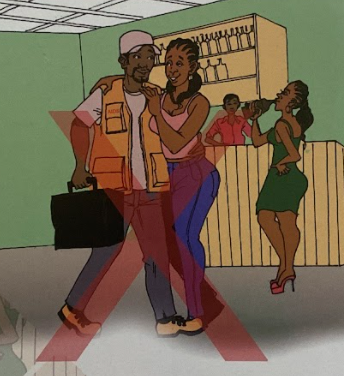 In contrast, Figure 2 (below) was understood as illustrating sexual abuse, because of the girl's facial expression and the fact that force is used. Such images are likely better aligned with community understanding of sexual exploitation, abuse, and harassment as being non-consensual and often involving violence, and are less likely to stop people from reporting it.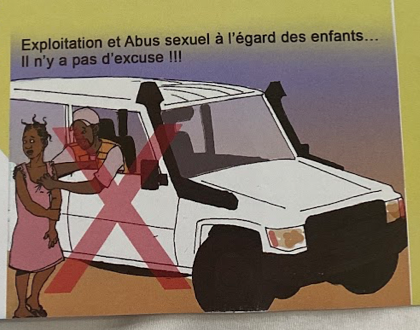 3. Share the learning with other organizations. Communities will benefit most from clearer communication on PSEA if verified translations of key terms are used consistently by all service providers. That will not only reduce the risk of confusion, but also generate efficiencies by freeing up program staff and volunteers for other action.
The PSEA Glossary is ready to be used and expanded
You can access the glossary here using a computer, smartphone or other device, and it will remain accessible offline, meaning that people with limited connectivity can still make use of the terminology. For more information on how to use the glossary, see here or click on the information icon in the app.
Please join us in this effort by sharing the PSEA Glossary with colleagues and partners and making sure your organization's word choice reflects the recommended terms. If you've found it useful, or you're interested in adding new languages, we'd love to hear from you at info@clearglobal.org.
We thank Microsoft for their kind Azure donation which hosts much of our language technology resources.
Related resources
1 The glossary is available in:
Amharic, Arabic, Armenian, Azerbaijani, Balochi, Bengali, Czech, English, French, German, Haitian Creole, Hausa, Hungarian, Igbo, Juba Arabic, Iraqi Turkmen, Kurdish Badini, Kurdish Kurmanji, Kurdish Sorani, Nigerian Pidgin, Oromo, Pashto, Pemon, Polish, Punjabi, Romanian, Russian, Slovak, Spanish Latin America, Sindhi, Somali, Swahili, Tigrinya, Turkish, Ukrainian, Urdu, Warao, Wayuu, and Yoruba
2 CLEAR Global continuously updates the contents of this glossary. We're also reviewing content for quality and accuracy. Your feedback is welcome, and you can provide it using the PSEA terminology feedback form.