How embracing language technology can help us achieve a more equitable future
Language equity is urgently needed in the drive for women's equality – and AI can help
The International Women's Day call to #EmbraceEquity is all over the internet.
And yet, the invaluable benefits of the internet are still disproportionately inaccessible to women – especially women who speak marginalized languages. It's time to make a change. As a community of language professionals and experienced humanitarians, we believe in multilingual communications solutions. Language AI and voice technology can help us work toward gender equality. Our global community is helping forge positive change when it comes to enabling women to get answers and make their voices heard, whatever language they speak.
The International Telecommunication Union (ITU) says that the relative gender gap between men and women who use the internet globally stands at around 8%. And at CLEAR Global, we know from years of research that women are less likely to be able to access potentially lifesaving information, about their own rights and health. Too often, women are left out of important global conversations that affect them, about preventing sexual exploitation and abuse in humanitarian action for example. For us, embracing equity means ensuring women have access to information, and have their voices heard, whatever language they speak. Solutions are already possible – with the life-changing power of internet access – but access is currently far from equal. Technology plays a key role in ensuring women have access to information in their language.
There's a global digital gender gap – and it's made worse by language barriers 
This International Women's Day, CLEAR Global is joining UN Women and the United nations in celebrating the theme #DigitALL: innovation and technology for gender equality (UN Women). CLEAR Global is a nonprofit dedicated to helping people get vital information and be heard, whatever language they speak. With the TWB Community at our center, we work with local and global nonprofits to ensure aid workers and affected people in humanitarian, development and other contexts can access vital information in their own language. We are committed to helping all marginalized people, particularly women and girls, have their voices heard. Because everyone deserves to be able to access potentially lifesaving resources, no matter what language they speak. This blog explores how our projects improve access for and empower women.
Make change with us
By providing vital information in accessible languages and formats, we can make it easier for women to access important resources and make informed decisions. CLEAR Global's work has the potential to make a significant impact, as AI helps to bridge gaps in access to information and empower women to take control of their lives. Learn more about our organization's efforts and our Four Billion Conversations movement to create an accessible and equitable space for women to access vital information and be heard. 
This International Women's Day, gender equality is the goal, and language equity is one of the ways we can get there.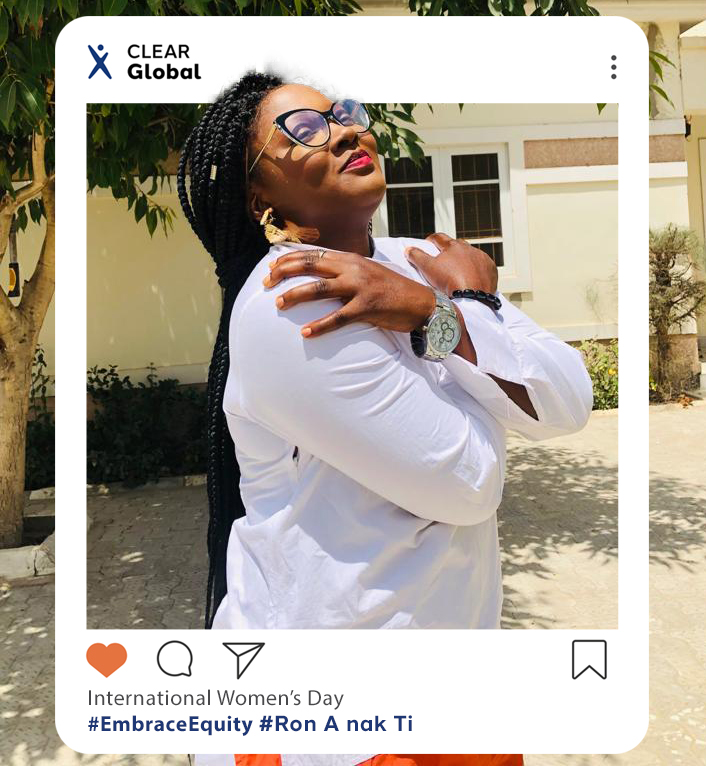 If you've followed our work in Bangladesh, DRC and Nigeria over the years, you'll know that too often, women are disproportionately marginalized. Women around the world face barriers to accessing information, and fewer opportunities. Too many women don't enjoy this essential human right, either because responders don't speak their language, or there's nothing available online. It becomes especially difficult when you've been forcibly displaced or you're living in a crisis. Too often, women are less able to access vital information and be heard in their language – because of societal factors including education, gender traditions, and language barriers. Better access to information in the right languages can help empower women. We believe in shifting the power dynamic to change the way the world communicates – because everyone's voice matters.
Ukraine language resources
Women and girls affected by the conflict in Ukraine face increased threat of trafficking and gender-based violence, as well as the devastation of their homes, loss of employment and rising poverty levels (UN Women). Language barriers can make the situation even harder for many women and girls who now find themselves without support and resources in their language.
Our Ukraine response language and communication toolkit is helping ensure that people in Ukraine and other countries have access to vital information in their language. Our information and practical resources help responders, community groups, and local interpreters and translators to address language and communication challenges – in English, українська, polski, Română, русский, Magyar, slovenčina, čeština, Deutsch.
This toolkit includes a range of multilingual materials, including PSEA resources, which are designed to help protect affected communities and humanitarian workers, and help women know their rights in vulnerable contexts such as crisis and forced migration.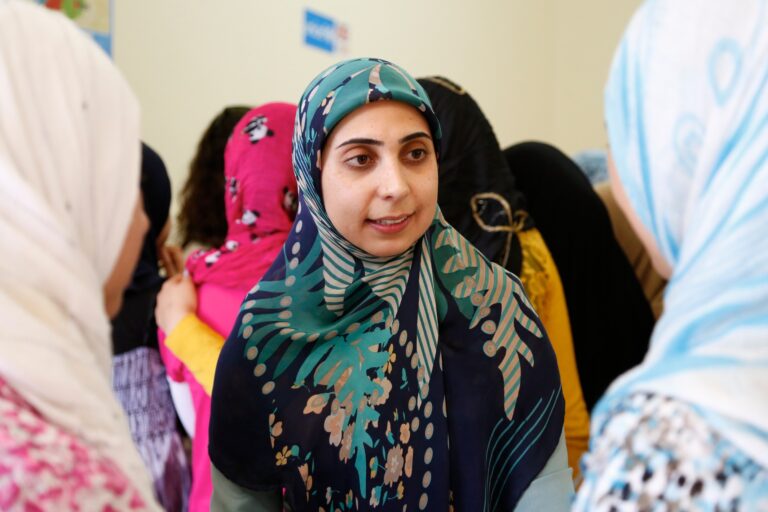 Speaking to women in Türkiye and Syria  
Humanitarian organization Action Aid says that women and girls are among the most affected by the devastating earthquakes in Türkiye and Syria. Many women and girls living in the regions impacted by the earthquake were already living in vulnerable situations. Several million people had already fled their homes in Syria. All of these people need urgent food, water, shelter, and information on where to go and how to stay safe. They need it in a language and format they understand.

We need to ensure safety and protection information is available to all of them – whatever language they speak, wherever they go. Many host countries' local organizations don't have language capacity needed for effective humanitarian response.

But, we're helping change this. We're providing support to other organizations responding to the earthquake, including the recently launched Emergency Community Translation Partnership program. We're also providing communications and PSEA resources for responders and people affected.
Shifting communication in northeast Nigeria
In northeast Nigeria literacy levels are low, many languages are spoken, and women generally have less access to technology than men. Structural inequalities also place women, older people, and less educated individuals at a disadvantage for receiving and sharing critical information. This disconnect can limit humanitarian services' reach and impact and has broad implications for accountability.
It makes sense that when women can access the information they want through technologies they can use and understand, they can gain skills, and benefit from opportunities like business and employment, health and financial services, and participate and contribute more fully to important global conversations.
Digital solutions are an essential tool to help us reach gender equality and empowerment for all women and girls around the world, whatever language they speak.
Over the years TWB and CLEAR Global have partnered with numerous local and international nonprofits based in northeast Nigeria to support displaced people.
We help organizations provide more effective access to essential services, such as healthcare, nutrition, education and rights information, in languages and formats people understand. To ensure their messages are heard by more people including the most vulnerable, TWB provides translation services, voiceovers and videos in local languages. If we ignore these vital lessons, women will continue to miss out.
Check which formats women prefer to receive information in – for example, clear, simple, pictorial messaging can be more effective than text alone.
Our research has shown that in some contexts including in camps for internally displaced people in northeast Nigeria, women might prefer verbal or audio communication.

The most commonly used national, or official languages, might not be the languages women understand most. In northeast Nigeria, for example, we found that two-thirds of women under 45 did not understand simple written Kanuri or Hausa, the languages most commonly used by humanitarians.

Read more in our research on Complaints and feedback mechanisms – effective communication is essential for true accountability. You may also be interested in reading Comprehension matters: the power of communicating in different languages and formats to reach women in northeast Nigeria.
In situations such as these, where people need reliable information urgently, voice technology and machine translation solutions can help to make access to information more equitable for women. How? By removing language barriers. By using voice technology, building communications solutions such as chatbots, we can help women who may not read or write to access accurate, fact-checked content in their own language, fast.
In many societies, women get less access to education and fewer chances to learn other languages. Older generations have often not benefited from the educational opportunities younger people have and may be less likely to read and write, or to speak a national or international language. Poor educational provision for people with disabilities in many countries limits their communication options. The world over, poverty translates into low literacy and less access to the languages of wealth and power. So an impoverished older woman with disabilities who speaks a minority language could be the very last person to find out what services are available to her after an earthquake, or where to go for help, or to be able to let responders know what she needs from them.
In Bangladesh, 
Our global community advocates improved access to information for women
Our community is helping forge positive change when it comes to enabling women to get answers and make their voices heard, whatever language they speak. TWB community members are committed to helping build equity and create more opportunities through every word translated. And we're excited to share our latest blogs with you!
This International Women's Day, let's celebrate our collective power to come together and ensure that all women can access information in their language and make their voices heard. On International Women's Day 2022, let us recognize the progress we are continuing to make in empowering women and girls around the world. We are committed to providing our language services and expertise to help break language barriers and ensure that people everywhere can get the resources and services they need in accessible languages and formats. By embracing equity and ensuring women have access to information in their language, we can help forge positive change. Help us create a more equitable future where women can make informed decisions about their own lives. Visit clearglobal.org to learn more about how you can make a difference.
We thank Microsoft for their kind Azure donation which hosts much of our language technology resources.
Written by Danielle Moore, Communications and Engagement Officer for CLEAR Global