Disruptive humanitarians: CLEAR Global is changing the global communication landscape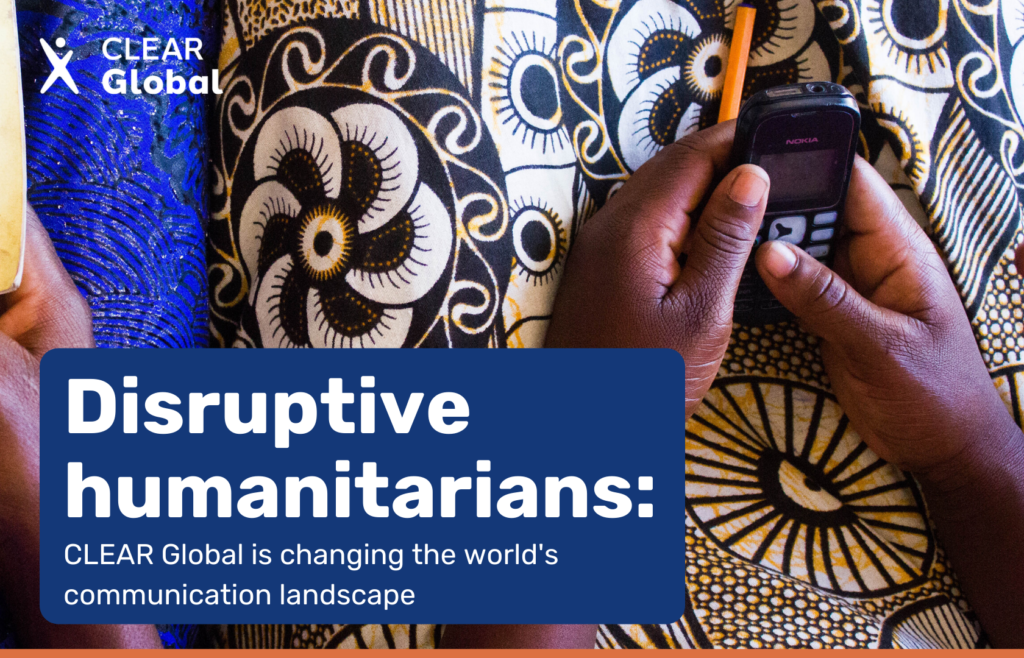 I had planned to write a blog about how Translators without Borders (TWB) grew into CLEAR Global, a nonprofit helping people get vital information and be heard, whatever language they speak. About a nonprofit that goes beyond translation to combine innovative language technology with decades of humanitarian experience and research to create multilingual, scalable programs. A nonprofit aiming to bridge the language divide in both the physical and digital worlds.
And then, news of the Ukraine crisis hit our screens. Our team worked hard to provide a rapid response for the people affected.
Within 24 hours, we'd launched an appeal to help us fund our response and meet the growing demand for our services.  Within two days, we'd launched a Ukraine Emergency Community Translation Partnership program to provide much-needed translation support to local organizations directly supporting people affected, for free. This meant activating our communities, making sure hundreds of Ukrainian, Russian, Polish, Hungarian, Romanian, Slovak, and German speakers were ready to respond. 
Our emergency Ukraine response: we need your support.
So far, our community has translated over 1.2 million words of vital humanitarian information into 35 languages. Information that will help people get answers to their questions in a time of confusion and panic for many. Much of the need right now is on the ground and at the borders, so we've been supporting translators and interpreters with online training courses and tips sheets – ensuring responders are prepared and listening to affected people as well as they can. We've built up our team and deployed team members to Poland to assess people's needs: what languages do they understand best? What channels do they trust? We're advocating with all our might for aid agencies and governments to listen to people in their languages, and ensure they have the information they want and need. And we're disseminating key information on critical topics – including mental health, and advice to prevent trafficking. Right now, we're working with 31 organizations and counting, and we plan to do a lot more. 
At the end of last week, I felt both exhausted and proud of what we had achieved, probably like a lot of my colleagues. Every bit of work we've done has been purposeful: we were helping, directly and indirectly, hundreds of thousands of people. With over 20 languages spoken in Ukraine, in addition to the languages spoken by international residents and neighboring countries, CLEAR Global is one of the rare nonprofits removing language barriers in this context. And that's crucial. 
It struck me that this is what we've been doing all along. 
I joined CLEAR Global about a year ago. When I asked Aimee, our CEO, why they decided to change the organization's name from TWB, she said: "I was trying to explain the importance and potential of our language technology to our partners, but they kept associating us with nothing but translation."
"Everyone did," I thought. 
It began with translation.
In fact, the TWB story began with translation, when the earthquake struck Haiti in 2010. Humanitarians were already providing food and shelter, but access to information in relevant languages was lacking. A group of linguists gathered to translate critical information into Haitian Creole for people affected by the disaster. Their idea became TWB – an organization supporting people who didn't speak English or French, often in the most remote places distanced in miles and in language from established aid services. TWB became a bridge between humanitarians and people living through crises.
It started with translation. But, over the last ten years, we've done so much more. We've built multilingual chatbots to provide people in northeast Nigeria and the DRC with accurate COVID-19 and Ebola information. We've built smart apps to enable Latin American migrants and refugees to access information and services at the US border. We've created open language data depositories and a plethora of other resources, so that organizations can listen to, effectively communicate with, and help the speakers of minority languages, who are often the world's most vulnerable. We've trained translators and interpreters. We've built offline, voice-enabled glossaries and machine translation tools. We've created interactive language maps, and become experts in AI-based language technology solutions. It was clear that this had become more than translation. As the need for our work grew, so did we. So, we became CLEAR Global. Translators without Borders remains the core of our operation, and CLEAR Global encompasses our  broad ambition, with a focus on communication, language, engagement, accountability, and reach.
Four Billion Conversations: a movement
As CLEAR Global, we want to make access to information and communication systems more just and linguistically diverse. Currently, about four billion people who speak marginalized languages can't access information or communicate digitally – little or nothing exists in the languages they speak. Too many people can't get information or have their voices heard because current communication channels don't support their language. They're disconnected and left out of vital global conversations. 
We believe everyone has the right to access information they need and want, whatever language they speak. Big, urgent conversations about climate change, women's rights, health, migration, education, and more, matter to everyone. By working with global and local organizations, business, and agencies, we can use technology to drive development, create more equality, and give people agency over their own lives – even if they don't speak a "power" language. We can address the digital language divide. 
Our multilingual language technology solutions help establish trusted two-way communication with more people, so that speakers of more languages can get vital information and be heard. Our research helps us better listen to and understand the sociolinguistic needs and concerns of millions of people. Our TWB community of over 80,000 members translates up to 30 million words per year, and makes valuable content accessible in over 200 language pairs. Together, we can change the way the world communicates.
Acting across borders and sectors
While we step up to respond to urgent needs such as in Ukraine, we remain focused on supporting people all over the world. We've supported humanitarian and development programs in over 80 countries, and currently have country programs in northeast Nigeria and Bangladesh. There, we provide ever-evolving language and communication support to local and international NGOs. In these culturally and linguistically rich countries facing conflict or natural disasters, we act fast to get people the information they need and want. Our collective support enables people to make informed decisions for themselves and their communities, and make their voices heard.
This vital work lies at the intersection of language, technology, and communication. We partner with established global organizations and innovative local ones to make sure our work is locally relevant, with social impact on a global scale. We work with marginalized people to shift the power structures of global communication, advocating a local-first approach. Because, by bringing diverse voices into the conversation, we can be a catalyst for change.
Written by Milana Vračar, Communications Officer, CLEAR Global
Follow CLEAR Global on Twitter and LinkedIn.
Follow the TWB community on LinkedIn, Facebook, and Instagram.